I dare you to find someone who has traveled to Capri and comes back home saying it was any less than perfection. (Side note: if you do find that person, maybe you don't listen to their travel advice because they are loco). There's adventure, glamour, mountains, ocean, signature dishes named for this mighty little island (insalata caprese, anyone?). It's a veritable melting-pot paradise where even the most discerning of travelers will fall in love. You'll find yourself happily humming the tune to Volare the entire time you're there. Let's get your love affair with Capri underway.
Capri Planning Guide
Where to stay: Near Marina Grande or the Piazetta, which are the most convenient locations for getting around the island
Flight details: Fly into Naples Capodichino International (NAP), then take a ferry to Capri
Time of year visited: Fall
Time in Capri: 2 days
Italy itinerary: 1 week in Campania (Amalfi, Capri, Naples, Positano, and Ravello) and 1 week in Tuscany (Florence, Montalcino, Montepulciano, San Gimignano, and Sienna) (2 weeks off of work!)
Save this map to use on your Capri trip:
Click the star to the right of the map title
Open the Google Maps app on your smartphone
Click on the three lines in the upper left corner and select "Your Places"
Select "Maps" and the map will be saved there for you to use on your trip. Have fun!
Favorite Moments
Nel Blu, Dipinto Di Blu (In the Blue, Painted Blue)
In Capri, it's all about the blue of the sky and water. In some places, you can barely tell where one meets the other, their perfect shades embracing and becoming one on the horizon. As an island, the only way to arrive to Capri is by ferry, usually from Naples or the Amalfi coast. Instead of taking the funicular right up to the main town square, stay down at the port. Here, you can explore the island by sea.
Don't Miss:
I had the most fun renting a boat and riding around the island. Head down to Banana Sport's outpost, located behind the funicular ticket office (it's a little hard to find, so see the above map), and you're on your way. There is so much to see on your ride. The famed Grotta Azzura (Blue Grotto – often closed due to water conditions). The many other colored Grottos (there's a green and a white grotto, and possibly more). Marina Piccola, the other main (and smaller as the name denotes) marina on the opposite side of the island. The Faraglioni di Capri, huge rock formations in the water, which you can drive through you're feeling adventurous.
Logistics:
You may be wondering how I rented a boat without a boating license. Well, my friends, this is Italy, and they are not concerned with lawsuits in the same way we are in America. All you need to rent a boat is a valid driver's license, and it doesn't have to be an EU license. I was able to use mine from home. The boat is easy to drive as long as you're reasonably cautious. But do listen to the short tutorial, as you'll be on your own once you leave the port. Make sure to also ask the person who rents you the boat if the Grotta Azzurra is open or closed. You can't take the speedboat inside, but the status of the Grotto will give you a clue about the present sea conditions. Closed means it's high tide and/or rougher sea. Open means low tide/calm waters.
Additionally, I highly recommend going first thing in the morning. Go when both you and other boaters haven't started on the midday cocktails yet! The seas and the sailors are generally calmer then. Capri grew out of the ocean from a tectonic plate, meaning the coastline is all rocky cliffs. Despite that, if you use a reasonable level of precaution, you'll be fine!
If the idea of renting a boat freaks you out, don't skip the sea tour altogether. There are plenty of companies who will take you on a guided tour with a licensed captain.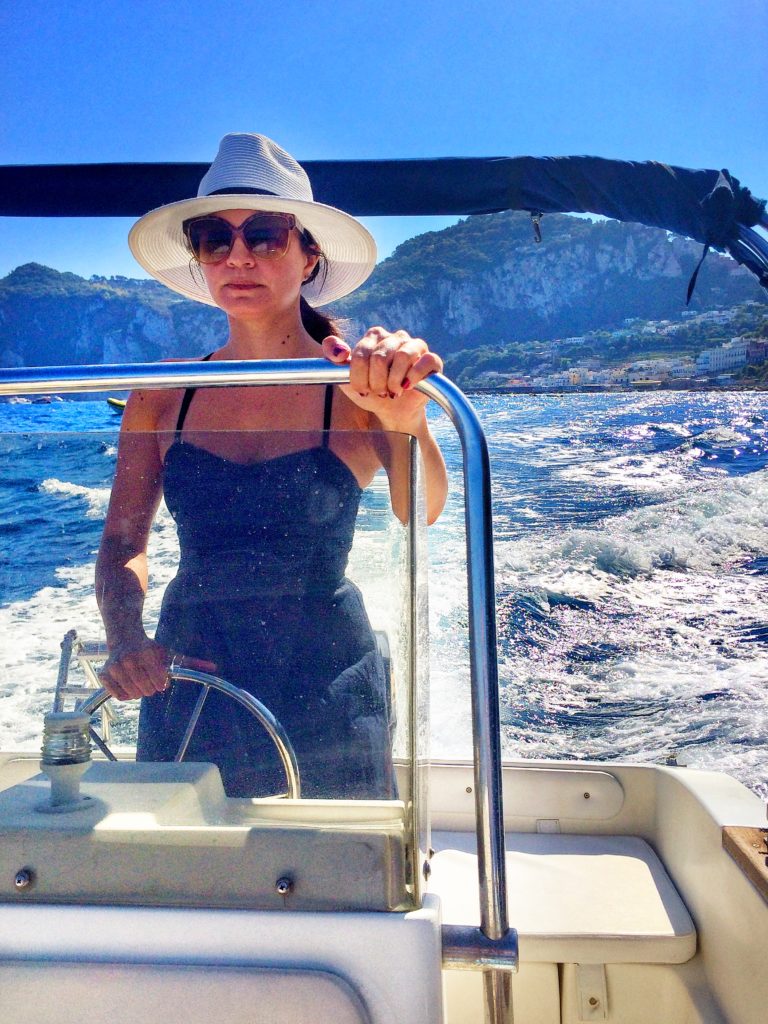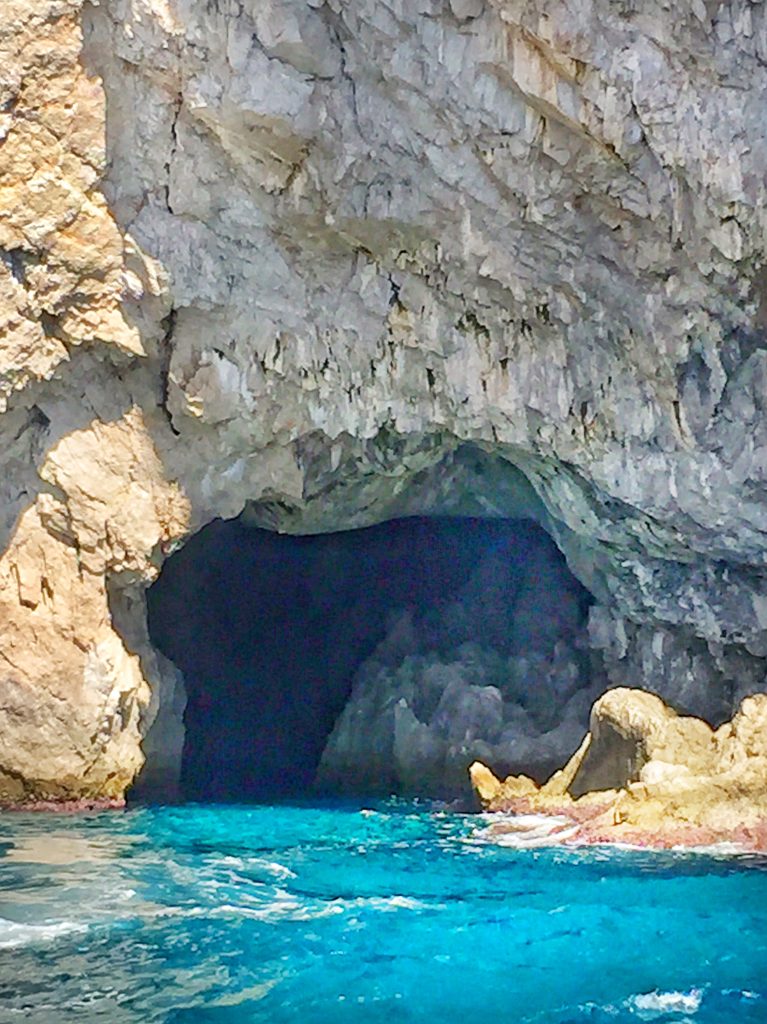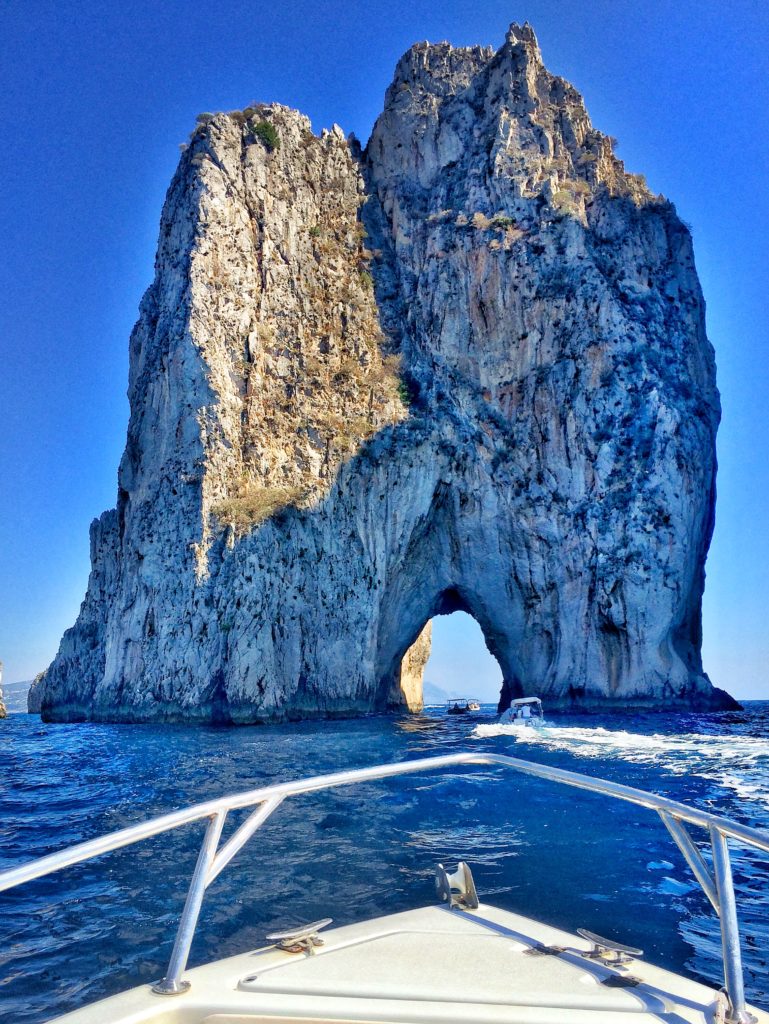 The ride through the arch at Faraglioni di Capri
Volare (To Fly)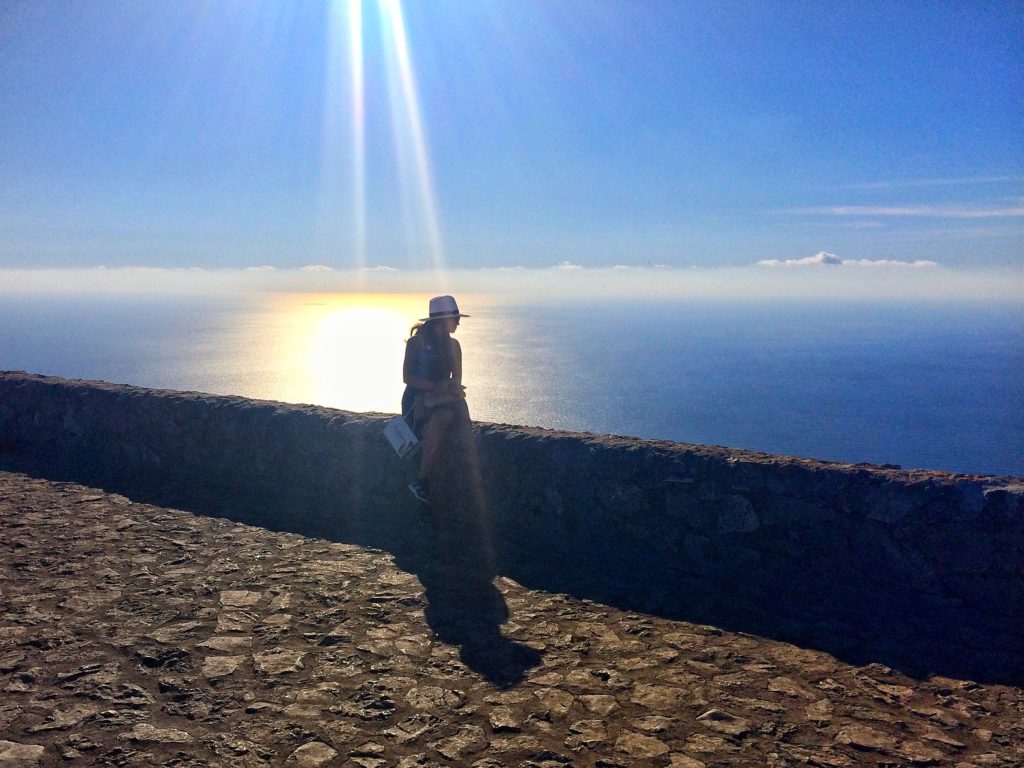 Anacapri, the more elevated town on the island, is home to Monte Solaro. The highest point in Capri, it boasts sweeping views over the landscape all the way to the mainland.
Don't Miss:
Monte Solaro quite literally feels like the closest you can get to heaven. As such, it's worth walking around every inch of the peak to see the island and sea from different angles. Plus, you'll get a bird's eye view of all of the sights you just saw on your boat ride!
Logistics:
Getting up there is a bit complicated. Assuming you're staying in/around Capri's main town (also called Capri) or Marina Grande, you'll need to take the funicular to the Piazzetta (Piazza Umberto I). Tickets can only be bought in a few places. The easiest is the main lift, bus, and ferry ticket office, which is right where your ferry disembarks in Marina Grande (see above map). I highly recommend buying all of the tickets you need for the day or the duration of your stay at one time. The lines are long in Capri (even on a weekday in the off season when I was there). You can also hire a taxi or rent a car, but this is a small island, so the fees are very high.
Once you're at the Piazzetta, walk to down Via Roma to the bus terminal (also on the above map). Take a bus to Anacapri from there. Hang on tight as your bus winds up the mountain through hairpin turns, and get off at Piazza Vittoria. The Monte Solaro Chairlift (Seggiovia Monte Solaro) is right in that plaza. It's just like riding a ski lift, but there are several strong men working on either end. They're there to ensure you don't fall when you get off. The lift closes at 5PM, so be mindful of the time.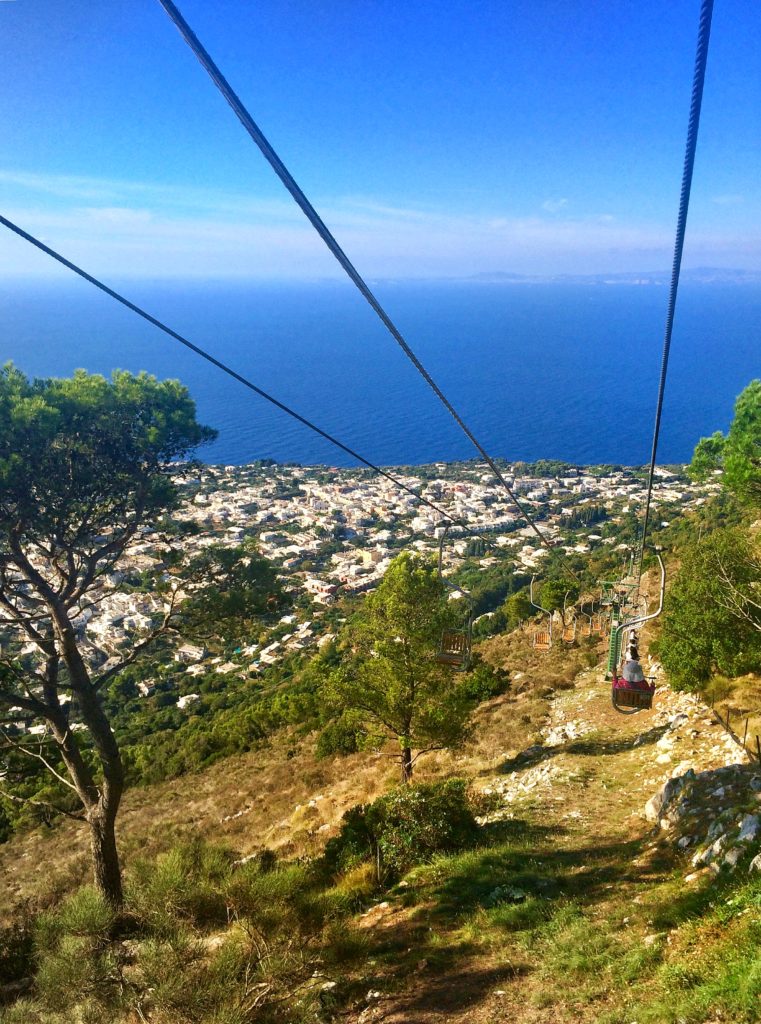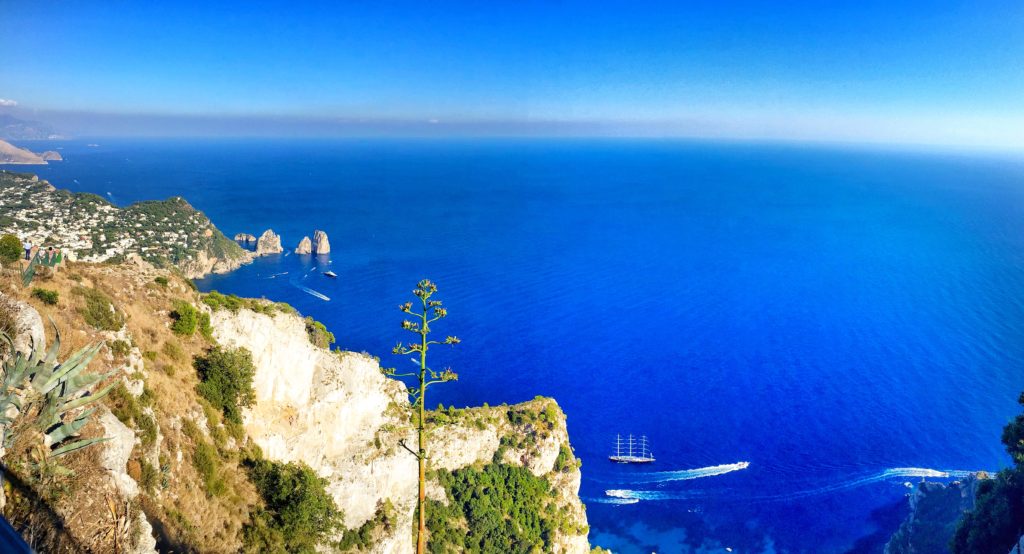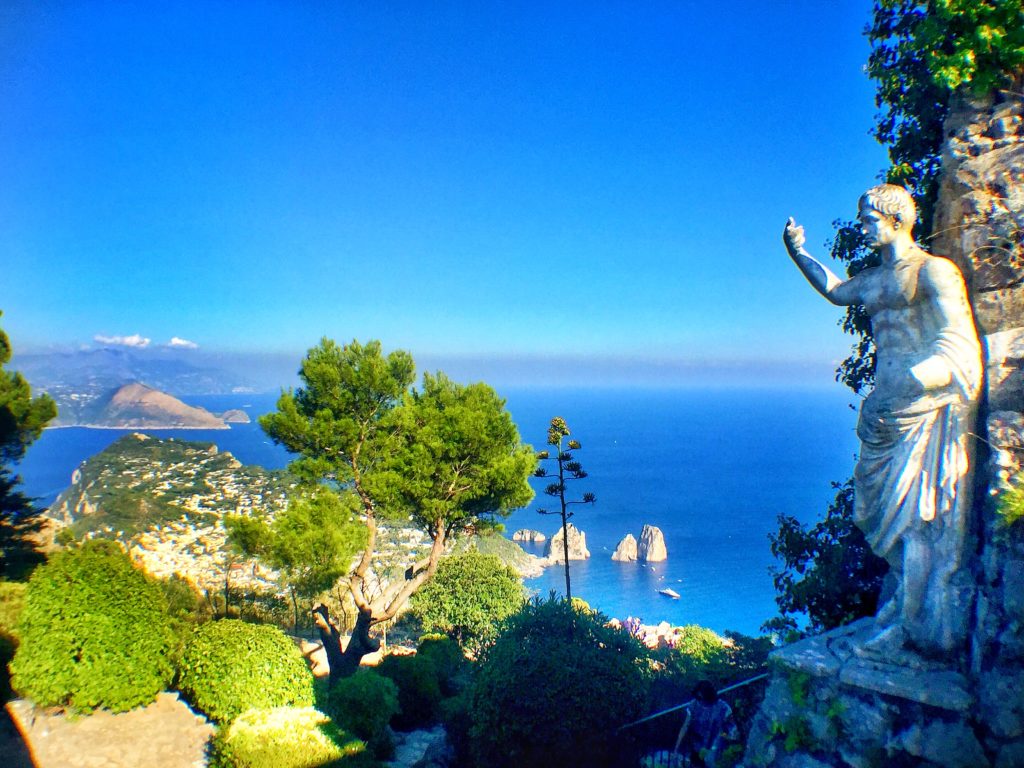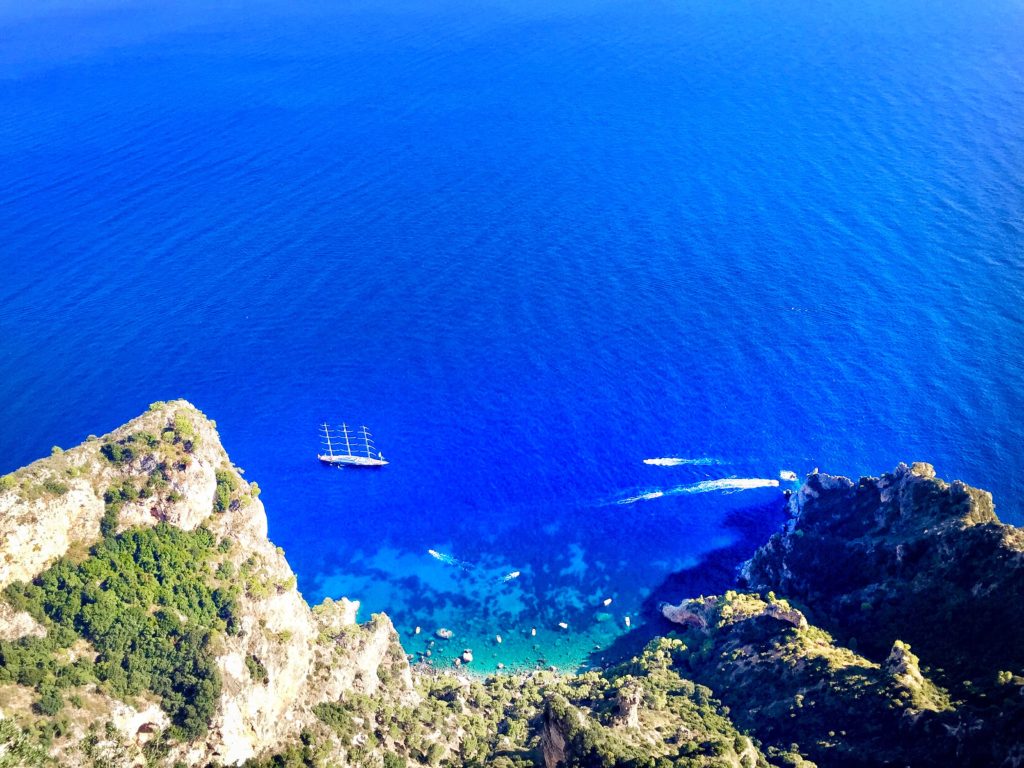 Cantare (To Sing)
The food; oh the food. Your stomach will literally sing from all of the amazing delectable choices in Capri. In fact, Capri has three signature dishes that can take you from appetizer to dessert. And this is without venturing away from the cuisine for which the island is known—insalata caprese (mozzarella and tomato salad), ravioli capresi (pasta stuffed with local cheese and marjoram), and the rich torta caprese (chocolate and almond cake). Do not leave the island without tasting them all. You will regret it. I even went as far as having all three for lunch and dinner in a single day. (Yes, I have a complicated relationship with food, and we're very happy together 😉).
Lunch
Michel'angelo in Capri town has a mozzarella bar. You heard me: a cheese bar. Go; eat; die happy. Michel'angelo is conveniently located in the heart of Capri's main town square. From there, you can walk (or roll if you've stuffed yourself) down Via Camerelle for a post-meal gelato at Bar Gelateria Embassy. They make their own waffle cones in the shop, and you can smell them wafting down Via Camerelle as you approach. Via Camerelle is also home to some fantastic upscale shopping if you need to walk off your meal. Make sure you visit Carthusia and bring home one of their signature fragrances to be reminded of your time in Capri.
Happy Hour
When you're ready for happy hour, you can't find a better spot than Bar Al Piccolo. The bar/restaurant sits on the Piazzetta right at the top of the funicular from Marina Grande. Their menu of mixed drinks is at least 10 pages long, and as with any apertivo in Italy, they serve snacks along with your drinks (so civilized!). Snag a seat on the upstairs balcony. From there, you can people watch but don't have to be among the crowd. If craft beer is more your thing, Capri has its own line of brews served at Bar Grotta Azzurra in Anacapri. This off-the-beaten path establishment will give you a glimpse into local life. Sit outside and watch the residents go to and from the nearby park.
Dinner
For dinner, take the funicular back down to Marina Grande and dine alfresco at Ristorante e Pizzeria L'Approdo. The restaurant sits right on the marina. Here, you can watch the lights reflect off the water, as you enjoy the local Capri dinner and dessert.